Kicking off 2023, one of Bloq's longest-running brands — Metronome — re-emerges in beta as a powerful, simplified synthetics platform, Metronome Synth.
Synthetics operate a lot like derivatives in that they are representations of any type of asset. In the case of DeFi, synthetics greatly enhance yield opportunities by allowing any asset — even those not native to DeFi — to be used in yield generation. 
Once in production, Metronome Synth will be the only synthetics protocol that takes all of the most desirable features and latest innovations in DeFi (e.g., zero-slippage swaps, multi-collateral deposits, multi-synthetic mintage, yield-bearing collateral) and merges them into a single application.
Jordan Kruger, Metronome co-founder and head of DeFi at Bloq told Sync, "Metronome unlocks new ways for users to effortlessly supercharge their crypto assets by harnessing the power of DeFI in new ways we haven't yet seen."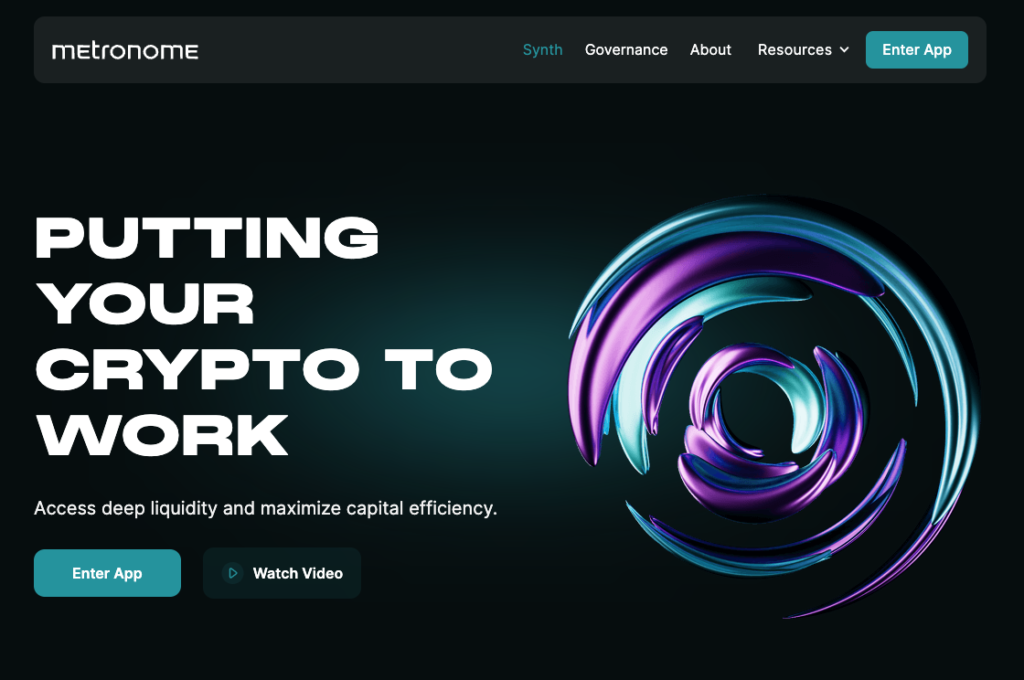 Synthetics replicate certain qualities of the traditional exchange experience — trading and leverage across many assets, all in one place. Unlike the centralized exchange, synthetic platforms enable these opportunities on-chain, and as such, are compatible with the broader DeFi space.
That DeFi composability ("Money LEGOs," as it's often called) is where synthetics shine. Metronome Synth places a strong emphasis on the incorporation of productive, yield-bearing positions as collateral.
Deposit, Mint, Swap, Repeat
Metronome Synth is a protocol that enables leverage yield farming that can be thought of as a yield supercharger.
In the example below, a user deposits ETH into a Vesper ETH pool, receiving a vETH pool-share token as collateral. That vETH is used to mint msETH ("Metronome Synthetic ETH"). The user then swaps the msETH for more ETH via Curve, repeating the process as much as the desired yield and the tolerance for risk allow.
During beta, users will have to perform these actions manually. In the future, Metronome Synth will offer one-click automation. Additionally, parameters will expand post-beta, allowing the total maximum leverage users can take on to multiply
"We anticipate the beta to be small and contained but well-enjoyed by those who participate," Bloq DeFi Strategy Lead Zane Huffman said.
"Expect Synth to offer multiple yield opportunities in parallel with different protocols. We enable users to harness the power of DeFi; we supercharge yield opportunities and utility," MetronomeDAO Community Marketing Manager Dean Curran added. There are limitless possibilities."
Follow Metronome on Twitter and Medium to get the latest updates as the beta-launch progresses.