Today we're announcing the latest updates and improvements to version 1.1 of BloqCloud and, most importantly, our newest feature for BloqCloud Nodes — load-balanced node clusters. 
High Availability for Always-on Blockchain Applications
BloqCloud's load-balanced node clusters deliver the kind of resiliency that nonstop blockchain applications require, at low cost and with no infrastructure requirements. Load-balanced clusters allow nodes to be upgraded or stopped while simultaneously providing increased scalability and high availability for your production-critical public network blockchain applications.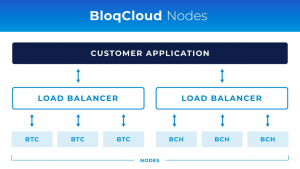 Spinning up a load balanced cluster is as simple as spinning up a single node — just a few clicks. To access this feature:
Login to the

BloqCloud Console

(

Getting an account is easy

.)

Navigate to the "Nodes" service on the left navigation

Select the "Clusters" tab and then select "New Node Cluster"

Configure the nodes in your node cluster and checkout.
Platform-wide Service Upgrades
BloqCloud v1.1 also adds the following:
Our

Bitcoin Cash

services were upgraded to support

the most recent hard fork in mid-November 2019

, which addresses transaction malleability issues and further implements the use of

Schnorr signatures

.   

Our

Ethereum

services were upgraded to support

the "Istanbul" hard fork

using a version of

geth v1.9

, yielding significant performance improvements. This hard fork implements EIPs intended to deliver lower gas costs and DDoS resistance among other features.

We also switched our

Ethereum Classic

from geth-classic to

multi-geth

in order to more closely follow and inherit improvements from geth.

Additional, minor version updates across node images. 
This builds upon the solid foundation of blockchain infrastructure services delivered at launch with v1.0: 
BloqCloud Nodes:  

BTC, BCH (mainnet & testnet)

ETH, ETC (mainnet) in US + EU regions

BloqCloud Connect (for indexed blockchain data, APIs, and event monitoring):

BTC (mainnet)

BCH (mainnet)
All of the above can be paid for in USD (Visa/MC), BTC, BCH, or ETH. Additionally, we're still on track to deliver ETH and ETC support for Connect — API compatible with geth and MetaMask — in Q1-2020 thanks to our work with ETC Labs. Stay tuned.